Superfish is a jQuery plugin that adds usability enhancements to multi-level drop-down menus with full support for touch devices and keyboard interaction.
Superfish is an enhanced Suckerfish-style menu jQuery plugin that takes an existing pure CSS drop-down menu (so it degrades gracefully without JavaScript) and adds the following much-sought-after enhancements:
Superfish supports touch devices, on Android, iOS, Windows Phone 7 and IE10 (with touchscreen), first touch will open an associated submenu, second will follow the link. Mouse and keyboard accessibility works as normal. If you are interested more in how Superfish menu works you should check examples page.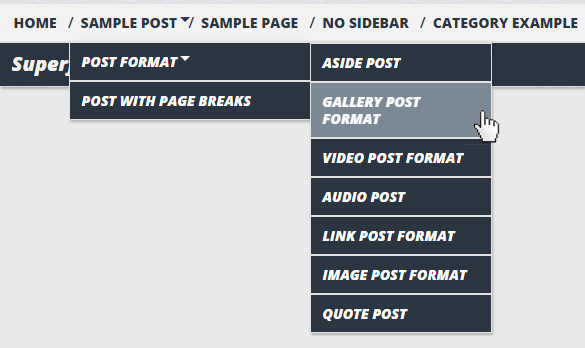 Superfish is further enhanced with hoverIntent, a plug-in that attempts to determine the user's intent… like a crystal ball, only with mouse movement! It is similar to jQuery hover method. However, instead of calling the handlerIn function immediately, hoverIntent waits until the user's mouse slows down enough before making the call.
Why? To delay or prevent the accidental firing of animations or ajax calls. Simple timeouts work for small areas, but if your target area is large it may execute regardless of intent. That's where hoverIntent comes in. For more information, visit http://rawgit.com/briancherne/jquery-hoverIntent/master/jquery.hoverIntent.html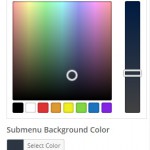 Once you create a menu and activate it, it will be displayed as a standard horizontal menu, below header and above website page content area. Theme Customizer includes options to change menu link color, and menu and sub menu background colors also.  Changing menu color is easy: from control panel you can simply choose desired color using a color picker. The change will be become visible right away in Customizer preview area. Once you are satisfied with menu colors don't forget to click save button to apply changes to the live version of the website.
---
Mobile menu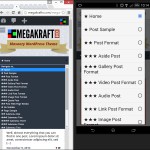 Megakraft Brick WordPress theme uses Superfish plugin to display menu on wide resolutions, for smaller devices menu display will change using jquery.mobilemenu.js, a simple script that transforms horizontal menu into mobile select menu. For more user friendly navigation, mobile menu sub menus are marked with multiple star symbols, depending on their sub level.