Post Format is a theme feature introduced with Version 3.1. A Post Format is a piece of meta information that can be used by a theme to customize its presentation of a post. The Post Formats feature provides a standardized list of formats that are available to all themes that support the feature. Themes are not required to support every format on the list. New formats cannot be introduced by themes or even plugins. The standardization of this list provides both compatibility between numerous themes and an avenue for external blogging tools to access this feature in a consistent fashion.
In short, with a theme that supports Post Formats, a blogger can change how each post looks by choosing a Post Format from a radio-button list.
Read more about Post Formats at WordPress Codex.
Formats available in this theme: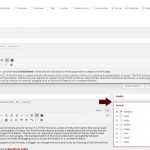 Megakraft Brick WordPress theme is using custom script that displays corresponding post format in editor while hiding other formats that are not selected at the moment. This is most useful as a distraction free feature since the script automatically removes unnecessary blocks from editor. The next time you switch your post to some other format the script reloads and displays the correct post format. The difference between formats while editing a post are only visible when you select audio, video, link and quote post format. Audio post format displays audio URL  input field, video format has a video url field and link format has a link input field. Quote posts have two fields, the first one is for an actual quote that will be displayed instead of featured image and the other field is for quote author name displayed below quote on the right down corner . These fields are displaying elements that can be seen while on a homepage when blog posts are displayed using Masonry grid.