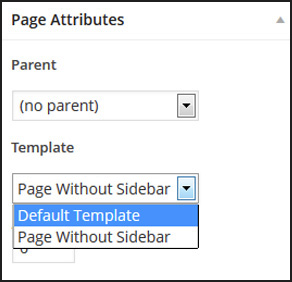 This is an example page with "Page Without Sidebar" template. Megakraft Brick theme comes with a default page template (page.php) that is easy to change using standard WordPress feature.
Using admin Page Attributes panel you can change default page template with a page without sidebar template (page-no-sidebar.php). Click UPDATE button to commit changes. You can repeat this procedure for each page that you want to appear without sidebar. Alternatively you can build your own page template by duplicating custom page php file and changing the header information and name of the template. From there you can change the page structure, remove or add new content to fully customize your new page look.
Page templates display your site's dynamic content on a page, e.g., posts, news updates, calendar events, media files, etc. You may decide that you want your homepage to look a specific way, that is quite different to other parts of your site. Or, you may want to display a featured image that links to a post on one part of the page, have a list of latest posts elsewhere, and use a custom navigation. You can use page templates to achieve these things.

Page Templates
Individual Pages can be set to use a specific custom Page Template (a WordPress Theme PHP template file, e.g., my-custom-page.php) you create within your Theme. See Custom Page Templates for instructions on how to create a custom template file for a Page. This new Page Template will then override the default page.php Page Template included with your Theme.
The Dynamic Nature of WordPress Pages
A web page can be static or dynamic. Static pages, such as a regular HTML page that you might create with Dreamweaver, are those which have been created once and do not have to be regenerated every time a person visits the page. In contrast, dynamic pages, such as those you create with WordPress, do need to be regenerated every time they are viewed; code for what to generate on the page has been specified by the author, but not the actual page itself. These use extensive PHP code which is evaluated each time the page is visited, and the content is thus generated upon each new visit.
Almost everything in WordPress is generated dynamically, including Pages. Everything published in WordPress (Posts, Pages, Comments, Blogrolls, Categories, etc…) is stored in the MySQL database. When the site is accessed, the database information is used by your WordPress Templates from your current Theme to generate the web page being requested.
An example of a static page might be an HTML document (without any PHP code). The problem with purely static pages is that they are difficult to maintain. Changes you make to your WordPress settings, Themes and Templates will not be propagated to pages coded only in HTML. The Page feature of WordPress was developed to alleviate this problem. By using Pages, you no longer have to update your static pages every time you change the style of your site. If written properly, your dynamic Pages will update along with the rest of your blog.
Despite the dynamic nature of Pages, many people refer to them as being static. They are actually called "pseudo-static" web pages. In other words, a Page contains static information but is generated dynamically. Thus, either "static," "dynamic," or "pseudo-static" may be validly used to describe the nature of the WordPress Page feature.
Read more at codex.wordpress.org
Using Page Templates
Page templates are a specific type of template file that can be applied to a specific page or groups of pages. Since a page template is a specific type of template file, here are some distinguishing features of page templates:
Page templates only apply to pages, not to any other content type (like posts and custom post types).
Page templates are used to change the look and feel of a page.
A page template can be applied to a single page, a page section, or a class of pages.
Page templates generally have a high level of specificity, targeting an individual page or group of pages. For example, a page template named page-about.php is more specific than the template files page.php or index.php as it will only affect a page with the slug of "about."
If a page template has a template name, WordPress users editing the page have control over what template will be used to render the page.
Continue reading at developer.wordpress.org