Masonry is a JavaScript grid layout library. It works by placing elements in optimal position based on available vertical space, sort of like a mason fitting stones in a wall. Masonry can be used to display blog posts, images, galleries or portfolios. It can equip a website with better functionality and design.
You've probably seen it in use all over the Internet.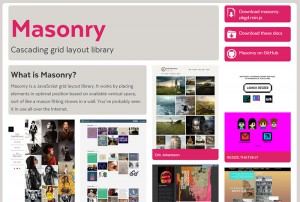 Masonry – grid layout library created by David Desandro is a part of WordPress Core.  The script fits elements together in a good looking way and re-arranges the layout dynamically. Megakraft brick WordPress theme is using Masonry to display categories and posts in dynamic grid. It integrates with native WordPress functions and you can set how many elements to display using Reading settings option "Blog pages show at most". Simply enter desired number and theme front page will use page navigation to switch between pages of newly created structure. This theme is not using infinite scroll to load more elements, instead it integrates with WordPress native functions and displays pagination below masonry grid.
Masonry works in IE8+ and modern browsers, including mobile browsers on iOS and Android.